R & M Associates offers a wide range of specialized industrial products for a multitude of applications in various industries including industrial packaging, aerospace, oilfield, textile, chemical, food packaging, and food processing.

Our PTFE (Polytetrafluoroethylene) coated pressure sensitive tapes and fabrics have multiple uses such as packaging, release agents, insulators, cable wraps, and thermal transfer and release.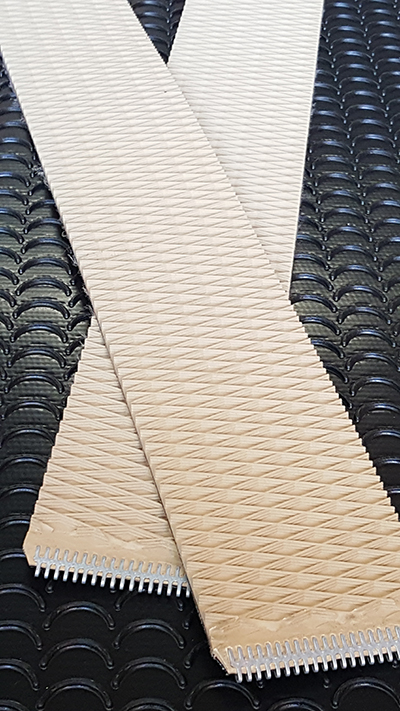 Our PTFE coated belting has many uses from 2 ply belts for band sealing machines to large belts used to precook beef and poultry. We also have belting for tortilla machines and open mesh belts for drying applications such as screen print machines.

We have silicone rubber products in various sizes and we can have it made to your specifications. We can also coat these products with silicone or acrylic adhesive depending on the individual application.

We have ni-chrome wire and ribbon for sealing applications and PTFE coated wire where a release agent is necessary.

We can make almost any silicone rubber part including gripper rubbers, gaskets, and seals. We can also custom cut any of our sheet goods to any shape to make gaskets or custom fit sheets. We can also PTFE coat heaters, heater bars, and seal bars.

We are a stocking distributor and we maintain a large inventory. Some of this inventory comes in standard sizes but most products are made to each account's specifications. When we are sent an inquiry in most cases we will send a sample made to specification to be tested. This method allows the customer to know the product will perform as expected before the first order is placed.
Once the testing is complete and the product and price are accepted, we bring the product in and hold in our inventory which allows us to ship products on the same day as ordered in most cases.
Visit our products and services page to learn more about how we can help with your specialized industrial product needs.
R & M Associates can provide any type of belting needed for your operation. From a belt for a hay baler to a belt to move sand and gravel to pull belt for a packaging machine we can supply it.
Concrete plants, sand and gravel, asphalt plants, and feed mills. Food grade belting for packing plants, food manufacturers, and packagers. Timing belts, portable conveyors belts, and tape machine belts, and much more. Contact us for your belting needs.