Conveyor Belts, PTFE Tape, Texas, Oklahoma, Arkansas
PTFE COATED FIBERGLASS TAPES AND FILM TAPES
We offer a variety of tapes for all industrial applications. Most of these tapes come in widths from ½ inch to 36 inch. They can be made to any specification to fractions of an inch. They range in thickness from 2 mil to 14 mil and are available with silicone (high temperature) or acrylic (low temperature) pressure sensitive adhesive (PSA). These products are available with or with out a release liner.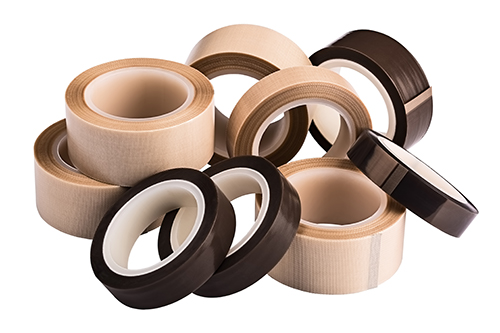 PTFE COATED FIBERGLASS TAPE

Thickness 3 mil to 14 mil
Width ½ inch to 36 inch

SKIVED PTFE FILM TAPE

Thickness 3 mil, 5 mil, 10 mil
Width ½ inch to 36 inch

UHMW FILM TAPE

Thickness 5 mil and 10 mil
Width ½ inch to 18 inch
Adhesive Acrylic PSA only

FEP FILM TAPE

Thickness 2 mil
Width ½ inch to 22 inch
Adhesive Silicone PSA only

GLASS CLOTH TAPE

Thickness 7 mil and 10 mil
Width 1 inch to 36 inch
PTFE COATED FIBERGLASS FABRICS
We offer fabrics in several grades to perform in all industrial applications. As with the tapes these fabrics can be custom cut to specification so that it can be easily installed with minimum waste. All fabrics are temperature resistant up to 500 degrees F and can be ordered in lengths of 18 or 36 yards. Most are available from 3 mil to 23 mil.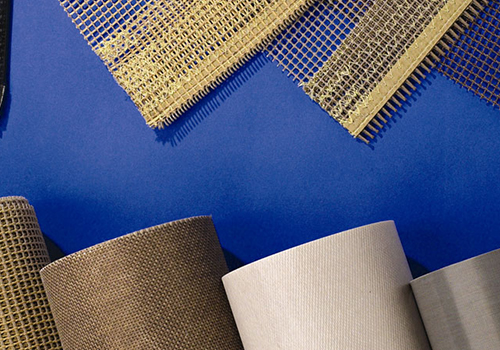 PREMIUM GRADE
STANDARD GRADE

Width ½ inch to 61.5 inch

MECHANICAL GRADE

Width ½ inch to 61.5 inch

POROUS

Width ½ inch to 61.5 inch

CREASE AND TEAR RESISTANT
Silicone

Width 1 inch to 37.5 inch
PTFE COATED FIBERGLASS BELTING
We have a full line of PTFE coated fiberglass belting from the smaller 2 ply belting used on many sealing machines to the larger cook and convey belts used in pizza ovens and in the tortilla industry. Our product line also includes the heavy belting used in grill machines to precook beef and chicken. These belts come in several widths and any length. We are constantly testing new belting from the manufacturers to ensure we have access to the best belting in the industry.
2-PLY BELTS

These belts are made from 2-plies of material laminated together and usually with a 3 inch by 45 degree splice. These belts are made to specification. They can be made up to 2 inches wide and up to 150 inches long.

TORTILLA BELTING

These belts are usually 9 to 11 mil and are custom made to specifications.

PRECOOK GRILL BELTING

We offer 11mil, 12mil, and 14 mil grill belting. These belts are custom made to width and length and the ends are squared and smooth cut to ensure a good bond when the belts are seamed together. We also offer all the materials to seam the belts and seaming irons to make the seam.
NICHROME WIRE
We stock most popular sizes of nichrome wire and ribbon used in many heat sealing applications. We can order and stock any wire to specifications including round wire, flat wire, and ribbon. We also stock PTFE coated nichrome for applications where a release agent is critical such as a cutoff wire. We offer the nichrome material by the foot or by the spool.
SPECIALTY PRODUCTS AND SERVICES
We can with our partners' custom manufacture almost any silicone rubber part. Along with standard items such as silicone sheet and strips we can manufacture gaskets, seals, boots, and gripper rubber. We can also have silicone or acrylic pressure sensitive adhesive applied to these products. We can die cut or water jet cut parts out of most materials that we offer from simple shapes to more complicated items such as gaskets and seals. We can also PTFE coat metal parts such as seal bars and heaters used in heat seal or seal and cut applications.